Ash trees dominate the Nebraska landscape㆒ there are an estimated 54 million across the state. Many trees struggle to thrive in the midwest region due to climate extremes, but ash trees are one of the few exceptions. Researchers believe, however, that an infestation of invasive pests known as Emerald Ash Borers is inevitable and will wipe out a significant portion of Nebraska's tree cover. So what exactly is the Emerald Ash Borer? How can they be identified? And what does this mean for Nebraska?
The Emerald Ash Borer is an exotic beetle first discovered in the United States near Detroit in 2002. The adult beetles feed on ash foliage which causes only slight damage. However, the larvae feed on the inner bark of ash trees, disrupting the tree's ability to transport nutrients and water and eventually kill it entirely. The pests are a shiny, metallic green color and about ½ inch long. They feed on only ash trees and travel across the country through chopped firewood. Currently, these ash borers have been discovered in more than half of the 50 states.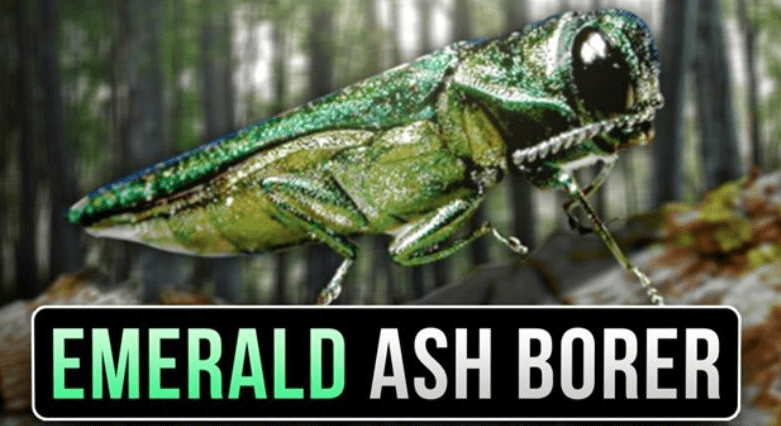 A tree infested with EAB will exhibit several symptoms including canopy thinning, branch dieback, vertical bark splitting, zigzag tunnels below the bark, and D-shaped exit holes ⅛ inch across. Woodpeckers like to feed on Emerald Ash Borer larvae, so damage and stress to bark are also common.
Other than causing an environmental hazard, an Emerald Ash Borer infestation could have some serious implications for Nebraska's economy. Experts have predicted that an infestation could cost residents, businesses, and state and local governments as much as $960 million in tree removal, disposal, and replacement collectively. Generally, an ash tree takes 4 to 5 years to show symptoms of an EAB infestation, and usually by this time, it's too late for treatment. Based on the experiences of other states who already have EAB, it can be expected that nearly 100% of infected ash trees will be dead within 15 years of the insect's arrival. Once the trees are gone, they will likely not grow back, and if they do, Emerald Ash Borers will destroy new populations in their early stages.
As of April 2016, there have been no reported EAB detections in Nebraska, but the insects have emerged in several surrounding states like Colorado, Kansas, Iowa, and Missouri. Nebraska homeowners are being urged to treat their ash trees with preventative pesticides or even voluntarily remove them from their yards before the problem evolves. The experts are certain that the Emerald Ash Borer is on its way to Nebraska and it's really a matter of when, not if. If you have ash trees in your yard or landscape, make yourself aware of this problem and take precaution㆒ it'll save you money in the long run.
Sources: