In our last blog, we went over the many benefits mulch can add to your landscape. At Dudley's, we utilize mulching technology that is unique to our company. Behold, the Dudley's Dew Right Express Mulch Blower Truck!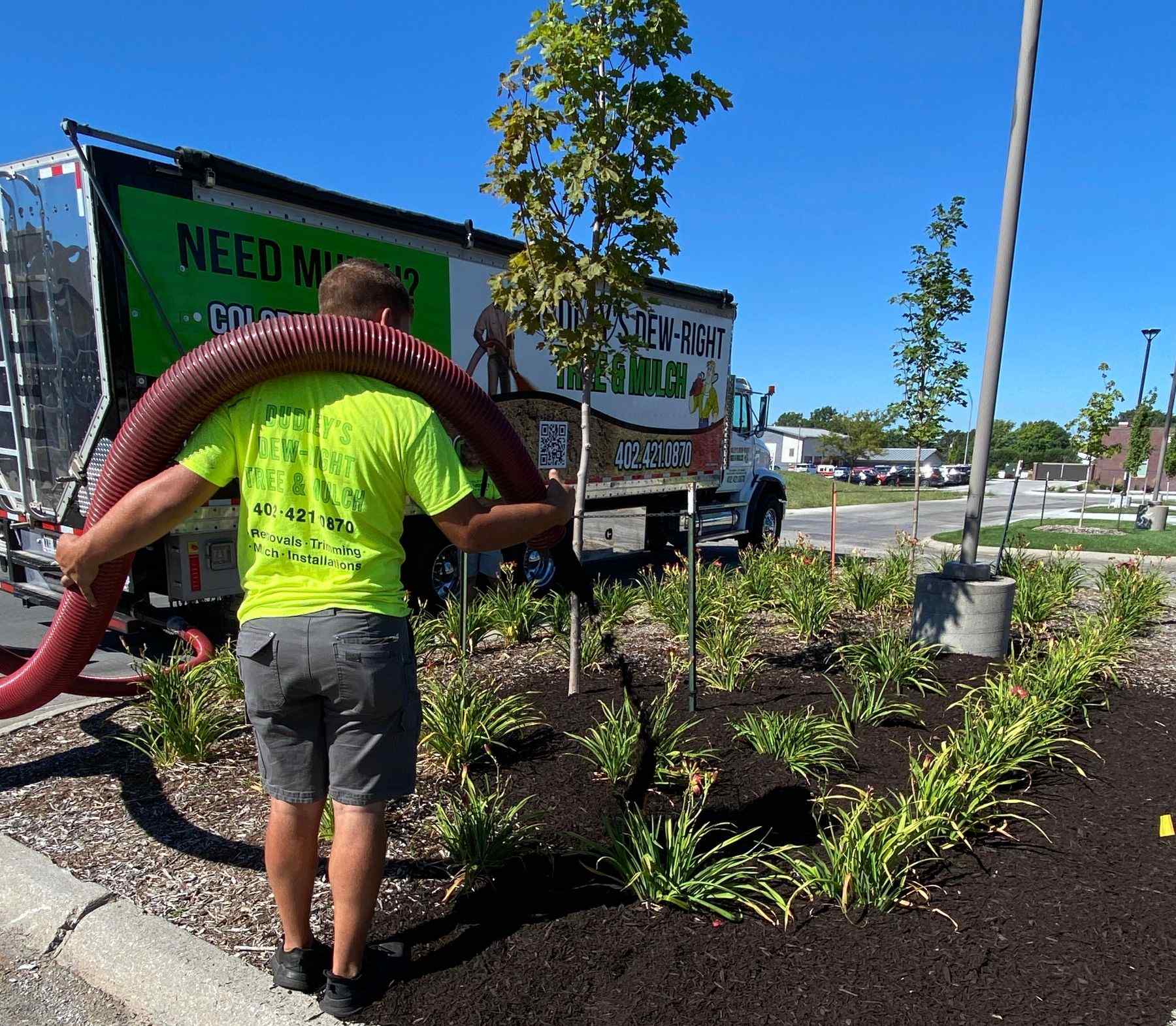 The traditional technique of putting down mulch involves hauling the product in the bed of a truck to the job site, shoveling it from the truck into wheelbarrows, wheeling the wheelbarrows across a landscape, and then dumping and placing the product. It's a labor-intensive process that frankly takes much longer than it needs to. Not only that, it leaves the mulch clumpy and uneven on the ground, and holds potential to damage existing landscaping in the process.
Dudley's Dew Right Services uses a state of the art mulch blower system, which eliminates several steps in the traditional mulching process. Our system allows our crews to finish jobs faster and ultimately save you money. The mulch blower system also allows for a cleaner, more consistent, even application than traditional mulching, which will keep your soil healthier and your landscape tidier in the end.
Dudley's Dew Right Services also provides high-quality mulch that you won't find at the store or from our competitors. We use the trees that we remove to make our own mulch- it's put through a grinder, naturally aged, and then dyed to create a quality, one-of-a-kind product. Available colors include black, coffee brown, natural, dark brown, and red, but if you have another color in mind, we'll happily customize a color to meet your landscape needs.
Our mulch is an all-natural, nitrogen-rich product that provides soil with the nutrients it needs to thrive. To read about the other benefits mulch provides, check out our previous blog here.

Gone are the days (and money…and time) of mulching your landscape with a pair of gloves and a wheelbarrow. Dudley's Dew Right Express Mulch Blower System is a convenient, money-saving way to improve the quality of your soil and give your landscape the flare it needs. Dudley's offers free estimates with no obligation, so contact us today!